There are a few considerations you must think about when choosing a hitch rack for your vehicle.  The first being does your vehicle already have a hitch in place, and if so, what size is it? If your vehicle doesn't have a hitch you need to determine if its even possible for your vehicle to have a hitch installed.
If your vehicle already has a hitch in place you need to determine its size. There are two sizes of hitches – 2 inch or 1 1/4 inch. This determines the size of the hitch rack you will need to purchase. At Rack Solid, we carry both sizes. The majority of racks will fit all sizes of hitches with the exception of swing hitch racks – these will only fit 2 inch hitches.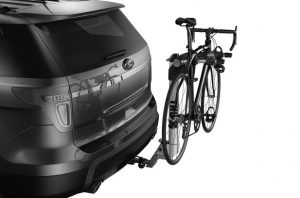 Hitch racks vary from model to model so it's important to take your vehicle into consideration. Some even install without requiring tools or frame adaptors!
As always, you can contact us with any questions you have regarding your hitch rack needs! Rack Solid has three locations to serve you in Berkeley, San Francisco and Santa Monica.
Brands to look at when looking for a hitch rack: